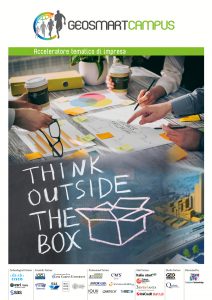 GEOsmartcampus is the first thematic Business Accelerator based on Digital Geography in Italy.
GEOsmartcampus means Innovative solutions.
Born with the aim of promoting and advancing the development of Solutions and the cooperation and confrontation of ideas through the sharing of knowledge, technologies, and data.
GEOsmartcampus:
– Access to and Know-How of Digital Geography are keys to the structure of the iper-connected centers.
– The development of a Smart City requires an intelligent approach to the management of data.
– The georeferrable data and the related informations represent the added value beside the meeting point between (the) users and (the)companies.
– Digital Geography is foundation to the core of a Change conceived for the needs of People and Environment, of citizens and the cultural and natural heritage.
GEOsmartcampus' main target is to stimulate and nourish business opportunities for young professionals, startups and and public administrations who stand out as heralds of smart solutions and as Community Innovators.
The generated Innovation Community will improve the creative potential, the ideas development, smart solutions, technological services and the synergies with the productive realities present all over the national and international territories.
GEOsmartcampus in order to:
– Support and promote the birth of new enterprises.
– Increase success rates of new business ventures.
– Let the different identities/brands/projects present on the territory know each other.
– Boost and aid Innovation for Public Administrations.
GEOsmartcampus is:
– Digital Labs
– Technological Platforms
– Remote Sensing SAR
– GNSS Technologies
– Big Data from Space
– Geodatabase for IoT
– Training Centers
– Business Consultancy
– Coworking